---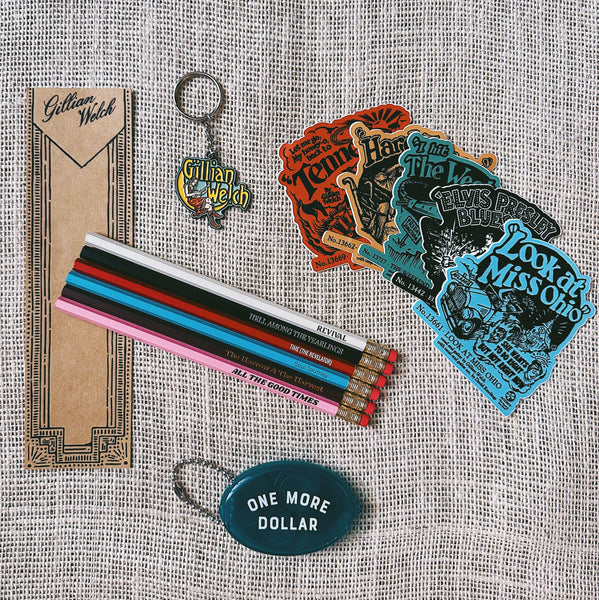 We bundled together all our smaller items from the year's holiday sale. The Knick Knack bundle includes:

- The Gillian Welch "Albums" pencil pack - Six custom pencils packaged with a bookmark! Made in Tennessee by Musgrave Pencil Company, each one of Gillian's albums are represented by color and font. 
- The "One More Dollar" Retro Coin Purse - This vintage-inspired rubber coin pouch is printed with "One More Dollar" on translucent teal on the front and "Gillian Welch" on the back.  Stays closed keeping all your coins & cash safe, squeeze to open.
-  The new Enamel Moon Glow-In-The-Dark Keychain -  Features our classic Moon design by Peter Nevins, measuring approximately 1 3/4" x 1 1/2", and it glows in the dark! Includes a short chain and split ring to attach it to your favorite set of keys.
- The Song Series Sticker Pack - Gillian Welch and David Rawlings song sticker set featuring designs from our frequent collaborator Peter Nevins. Each sticker measures approximately 3.5 x 3.5 and includes the songs Look At Miss Ohio, Elvis Presley Blues, Hard Times, Tennessee, & The Weekend.